Steve Jobs' vision of the world in 46 seconds.
"Stay Hungry. Stay Foolish." Steve Jobs' inspiring speech about loving what you do, trusting your curiosity and intuition, the lightness of being a beginner, connecting the dots looking backward, thinking for yourself and remembering how little time you really have.
We will miss you Steve.
Tim Cook, Apple CEO, Auburn University Commencement Speech 2010
But even if you can't plan, you can prepare. A great batter doesn't know when the high-hanging curve ball is going to come, but he knows it will. And he can prepare for what he will do when he gets it.

Too often people think about intuition as the same as relying on luck or faith. At least as I see it, nothing could be further from the truth. Intuition can tell you that of the doors that are open to you, which one you should walk through. But intuition cannot prepare you for what's on the other side of that door. Along these lines a quote that has always resonated with me is one by Abraham Lincoln. He said "I will prepare, and some day my chance will come." I have always believed this.
Working in corporate IT, it's amazing how often I find myself fantasizing about the consulting life. To work with different companies and different people and varying cultures–each engagement new and exciting. To be able to size up a problem from the outside, and propose or implement a solution, then have the luxury of not living with the consequences of my decisions. Sure, it would probably involve more hours and certainly more travel, but the incentive-based compensation would more than make up for it, right?
Then I talk to a consultant or entrepreneur and hear about the stress of not generating enough revenue and the unpredictability of their compensation. The midnight hours spent rushing on a RFP dropped on you with little notice. The sobering reality of corporate politics in every large engagement that can sometimes leave your entire project in limbo, and you on the bench in the meantime. Oftentimes they even wax about taking a corporate role for the "stability" and "low stress" (I know I did back in the day).
It's easy to get stuck thinking the grass is greener. We all know the cliche, but few of us live with it's antidote, gratitude. To be able to step back and appreciate what you have and how fortunate you are to have it. How worse things could actually be, and the sobering knowledge that no matter what the job, their will be plusses and minuses. There is no perfect job–even Steve Jobs a had boss to deal with (and got fired!).
About the only thing I can think of that's good about grass-is-greener thinking is, if channeled right, it might challenge your complacency and career inertia. By contrast, I can find no drawbacks to gratitude. It makes you a happier, better person and compels you to express thanks to others in your life–something that in the end is what life's all about.
So next time you find yourself peering over the fence at that green grass, use that as a moment to pause, reflect, and be grateful for what you have. You'll be happy you did.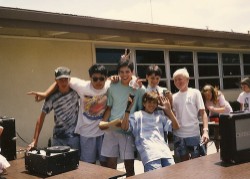 It seems in each era of life, certain friendships stand out as being especially close for that particular period. During my junior high years, that was Ben Tanner (far left) with whom I shared passions for aviation, computers and amateur radio (and shall we say a certain propensity for school hijinks).
When I moved away to New Orleans for high school, we maintained a New Years tradition in which I took advantage of the time zone difference to welcome him into the next year 2 hours in advance. As high school turned in to college, we lost touch but in a pleasantly unpredictable way reunited when we both found ourselves back in California following college.
It was then I learned one of those life lessons you don't soon forget. He relocated to Colorado to get married and pursue a firefighting career, and we had a falling out. I felt strongly at the time and chose not to attend his wedding. He was killed in a car accident not long after that, and our relationship was forever locked in that divide.
That was 10 years ago this Independence Day.
Here is an except for the Denver Post article which covered the accident:
Holiday's highway toll reaches 7 EMT dies in crash caused by out-of-control semi

July 4, 2000

An emergency medical technician was killed on his way to work Monday in a wreck on Interstate 25. Benjamin Tanner, 26, of Westminster was the latest to die on Colorado highways over the Fourth of July holiday. With about 24 hours to go, the holiday toll stood at seven – two fewer than last year.

Troopers said Tanner was southbound on I-25 near East 152nd Avenue in Adams County about 9 a.m. when a northbound semi went out of control, colliding with a northbound car and pushing it across the median, where it rolled and hit Tanner's car.

A medical problem might have caused the truck driver to lose control of his rig, Trooper Rod Campbell said.

The truck driver, Stanley Matsinger, 58, of Alvarado, Texas, and the driver of the other car, Jon Howell, 25, of Longmont were admitted to Denver Health Medical Center in fair condition.

Tanner had worked for Action Care Ambulance for two months and previously worked for another ambulance company. He and his wife would have celebrated their first anniversary next week.

"He was really highly motivated and working hard to get into paramedic school to finish his paramedic training," said Tom Tkach, chief paramedic for Action Care.
I was also able to retrieve his obituary:
Benjamin David Tanner

Certified EMT, 25

Benjamin David "Ben" Tanner of Longmont, a certified emergency medical technician, died July 3 of injuries sustained in an auto accident. He was 25.

Services were July 7 at St. John's Catholic Church in Loveland. Interment was in Resthaven Memory Gardens in Fort Collins.

He was born June 12, 1975, in Chesterfield, Mo. He was on high school cross-country and track teams in Thousand Oaks, Calif.

He was a member of St. Paschal Catholic Church in Thousand Oaks. He studied fire science technology at Moorpark and Oxnard colleges toward a firefighting career. He was a certified EMT in California and Colorado. He also held a student pilot certificate.

On July 17, 1999, he married Trisha Leigh Smith in Evergreen.

He worked for Action Care Ambulance in Englewood and was a volunteer EMT with Northglenn Ambulance and the Pleasant View fire station.

His interests included fishing, computers, flying, animals and music.

He is survived by his wife; his parents, David and Anne; two sisters, Emma, Brea, Calif., and Barbara, Los Angeles; two brothers, John "J.T." and Daniel, both of Brea; and his grandmothers, Mary Frederiksen and Eleanor, both of St. Charles, Mo.

Contributions may be made to the Ben Tanner Family Memorial Fund, c/o Commerce Bank of Aurora, 15305 E. Colfax Ave., Aurora, CO 80011, Attention: M. Toggle.
I often think of Ben when I see our old school or pass his family's old house, and hope his widow and family have gone on to thrive in the past decade. I now make it a practice to never let those type of disputes carry on long with people close to me–it's my tribute to him and a life lesson I hope to convey. I won't forget you Ben.
Just heard about the loss of a colleague. From the Washington Post:
On Saturday, July 11, 2009. David "Pun" Rankin is survived by loving children Tim Rankin, Brad Rankin, Jessica Gutschmidt, Max Mayhew, Zach Rankin and Emily Rankin; grandson Tyler Gutschmidt; and sisters Jan Anderson and Dorla Adams. David proudly served his country in the U.S. Marine Corps. After graduating from Officers Candidate School, he served two tours in Vietnam, earning a Purple Heart and Bronze Star with clusters for his valor. Following his military service, David established a career in sales and management in the computer field at Honeywell and Wang Laboratories, as well as other companies.
Dave, you'll be missed.
Do not internalize the industrial model. You are not one of the myriad of interchangeable pieces, but a unique human being, and if you've got something to say, say it, and think well of yourself while you're learning to say it better.
David Mamet