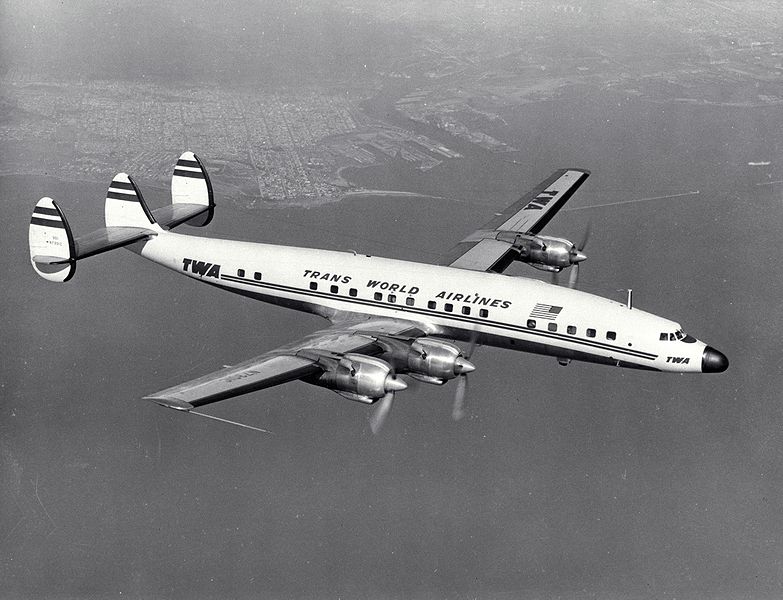 The beautiful Lockheed L-1649 Super Constellation. I recently discovered this photo gallery with great shots of a TWA Connie at the Airline History Museum. Looking at the interior gave me some design inspiration for my Airstream trailer (particularly this sink, bulkhead and ceiling, and bunk).
I love how one American icon inspires thoughts of another.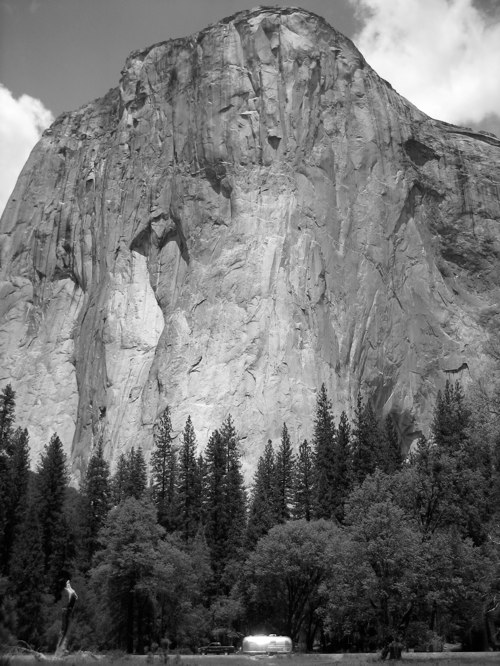 This year's annual migration to Yosemite was an eventful one, as the maiden voyage of our "new" vintage Airstream was not without complication. Thanks to Robert of All American Mobile RV Repair in Fresno for saving the day–and for the reminder of what a small world we live in. As it turns out, he got his start working for the very dealership in Washington State that sold our Airstream back in the 1970's. There's a good chance this wasn't the first time he'd seen it!
We had a wonderful time visiting with old friends and taking family bike rides in the valley (the only way to go during holiday gridlock, yes gridlock). There was even time for some fly casting on the Merced and some exquisite (34 year old, single cask) single malt from a private label in Scotland.
It's been just over two weeks since we acquired the vintage Airstream trailer, and I finally found time to take some pictures. It's been a sprint to figure out all the systems and budget for the necessary repairs and upgrades to get it operational and safe (comfortable and pretty come in later phases).
Thanks to the sharp folks at Area 63 Productions in Orange, California (listen to this great interview with Uwe the owner), we'll be making some significant upgrades ranging from axels to brakes to the furnace to power. This 1972 Overlander International model was in remarkably good condition having lived in Arizona for many years and the typical vintage Airstream problems (such as floor rot) were inevitably found, but luckily very limited in nature.
The 70's interior is, well, 70's and reminds me of the Boeing 707 Air Force One interior on exhibit at the nearby Reagan Library. It's in such good condition, it probably doesn't make sense to change it–I'll save that type of work for the other full restoration "project" trailer sometime in the future.
Things rare or things beautiful, here are wisely assembled, they instruct the eye to look at all things in the world as if never seen before.
Paul Valéry, 1937.  Much to my amazement and delight, this was the opening quote in Airstream: The History of the Land Yacht.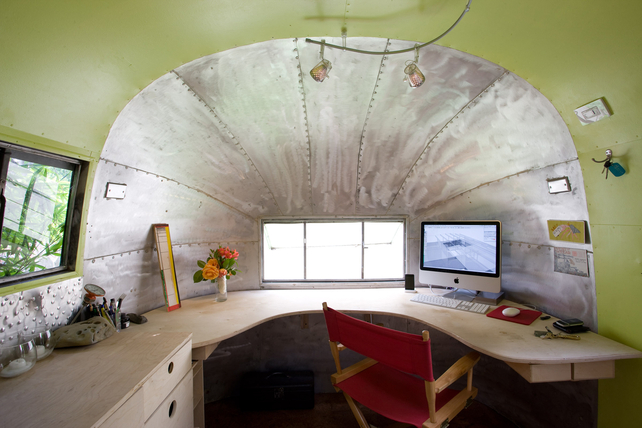 Photo from The Airstream Life featured in Dwell. Landscape architect Andreas Stravropoulos of XS LAND uses a mobile studio for client work.